25 May, 2021 10:47
Urban Utilities has launched Australia's first poo-powered SUV, expanding its fleet of cars fuelled by electricity generated by human waste.

Aptly named 'Number 2', the new SUV - a Hyundai Kona Electric - is the second vehicle to join the Urban Utilities poo car line up.

Urban Utilities spokesperson Anna Hartley said the car was the new 'skid' on the block.
"Number 2 is not your average SUV – it's an S-Poo-V, with a giant poo emoji emblazoned on the side so there's no guessing what's powering it," she said.
"On average, one person's daily habits can generate enough electricity to make the car travel around 450 metres."
Ms Hartley said the power used to charge the SUV was produced when biogas from sewage treatment was fed into a cogeneration unit - a giant engine that generates electricity - at the Oxley wastewater treatment plant in Brisbane.
"They might not realise it, but more than 330,000 people in Brisbane's south and west are helping to create fuel for our poo-powered cars every time they flush," she said.
Ms Hartley said turning poo into power was also saving Urban Utilities around $1.7 million a year in operating costs.
"Last financial year we produced enough electricity to power the equivalent of nearly 4,000 homes for an entire year," she said.
"Poo power doesn't only help keep our cars on the road, it also helps us run our two largest wastewater treatment plants at Oxley and Luggage Point.
"By harnessing the power of poo, we're reducing our operating costs and helping the environment by using a more sustainable energy source so it's a win/win."
Number 2 will hit the road alongside Australia's first poo-powered car, which Urban Utilities launched in 2017.
"Look out for our team driving around town – if the car's eye-catching design doesn't give it away, the 'Number 2' registration plates sure will," Ms Hartley said.
"Those who want an up close and personal look at our poo fleet can view the cars at the upcoming Green Heart Fair sustainability festival in Chermside on May 30.
For more visit https://urbanutilities.com.au/about-us/innovation.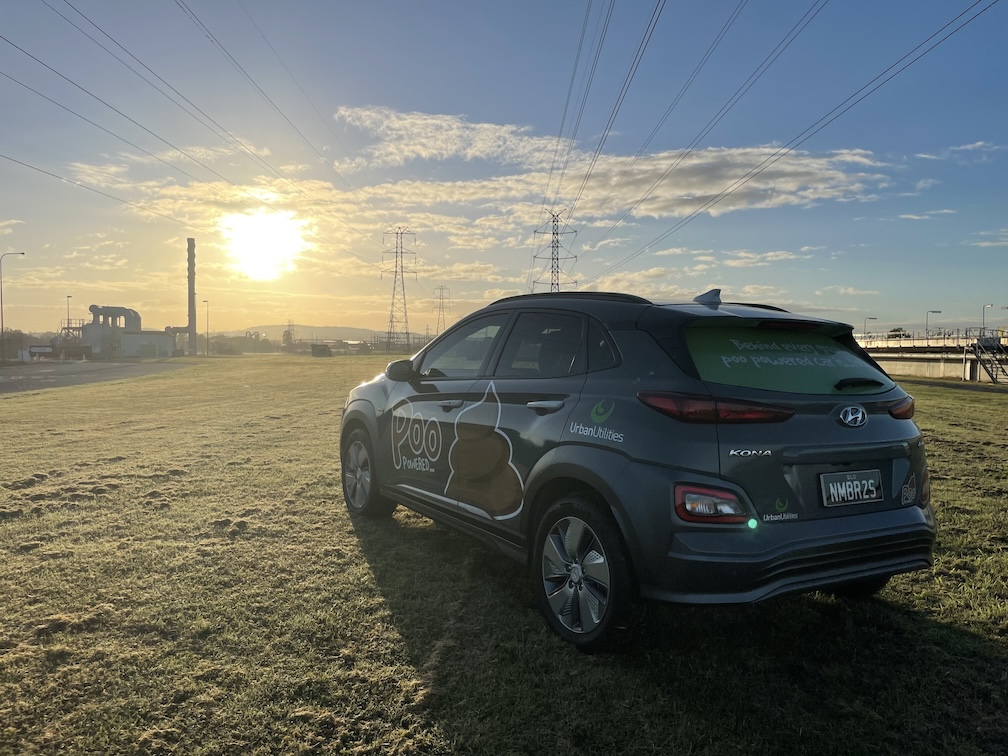 'Number 2' fast facts:
• Australia's first poo-powered electric SUV
• 150,000 litres of sewage powers a full charge of the car – for free!
• Petrol savings of around $1,700 per year*
• Can be charged at a 240-volt power point
• Driving range of up with 450 kilometres
• Produces zero emissions
*Based on around 15,000 kilometres per year at a fuel price of $1.50.
---
About Urban Utilities
Established on July 1, 2010, Urban Utilities is one of the largest water distributor-retailers in Australia, providing water and sewerage services to more than 1.5 million residents in South East Queensland. Our 14,384km2 geographic area is made up of the five local government areas of Brisbane, Ipswich, Lockyer Valley, Scenic Rim and Somerset.